How to Have a Successful Yard Sale
Posted by Lisa Jackson on Wednesday, June 1, 2022 at 1:30 PM
By Lisa Jackson / June 1, 2022
Comment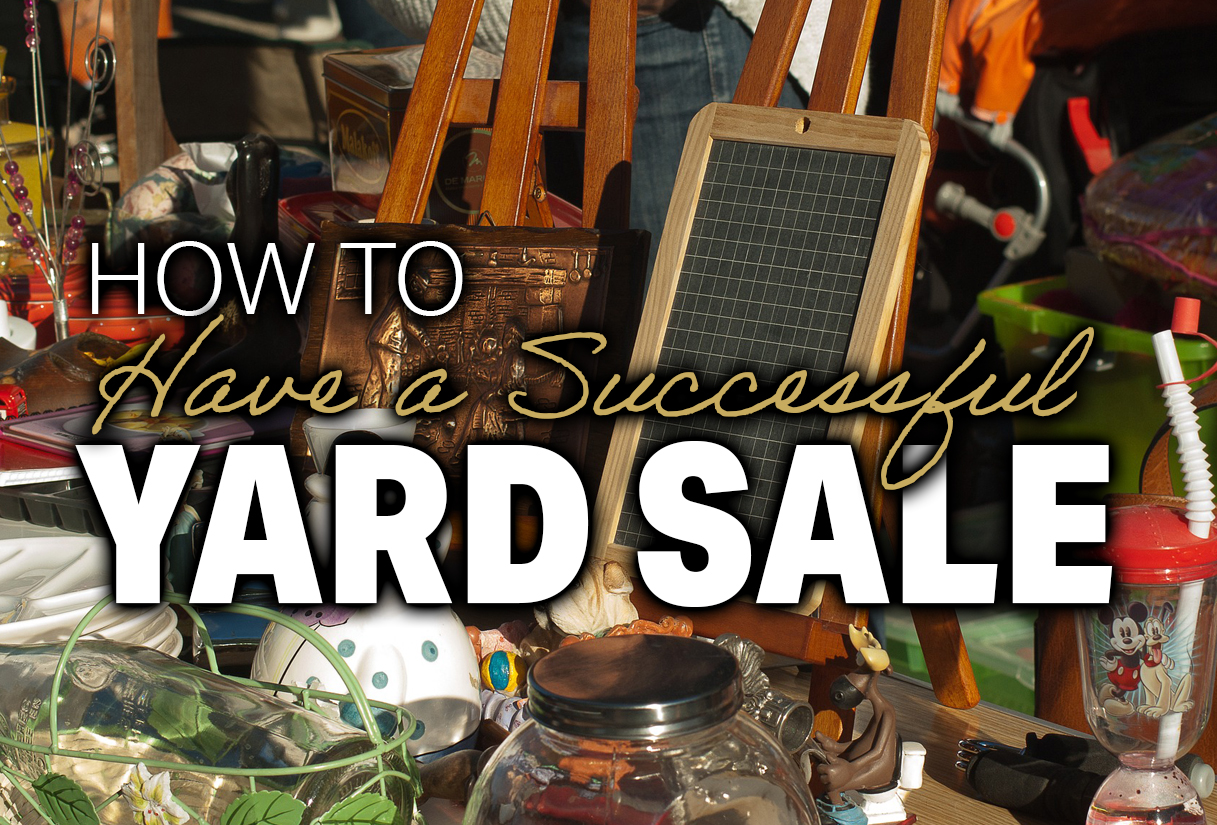 Do you need to get rid of things that you no longer have a use for? Consider having your own yard sale! It's the perfect way to declutter while making a little extra cash in the process.
There is a lot involved in planning a yard sale. It's not as simple as just setting up tables and putting your items on them.
Check out our following tips:
---
Things You Will NEED:
When running the yard sale, you will have to be able to display your items neatly and process sales transactions quickly.
Be sure to have these necessary items on hand before your sale:
Extra cash for change (Lots of 1 Dollar Bills and Quarters)
Lockable Money Box
Grocery Bags and Boxes for Shoppers
Chairs
Tables
Clothing Racks
Price Stickers or Tags and Markers
Tarps to Protect Items in Case it Rains
---
Check Local Regulations
Check that you are complying with local regulations for your yard sale. Different cities and towns have different rules for yard sales. Some areas may require a permit, so it's important to check beforehand.
Location, Location, Location
Location is critical for a successful yard sale! The right location could be in your own yard, driveway, or garage. But if you don't have the space for a yard sale, consider asking a family member or friend if you could have your garage sale at their home. You could also look into taking your items to a community flea market.
Pick the DATE and TIME
Allow plenty of time to prepare for your yard sale. Picking a date about a month out can help ensure you have plenty of time to get everything organized and set up. Spring and fall are the best seasons for yard sales since the weather isn't extreme. Saturdays and Sundays are the best times during the week to hold your yard sale since more people are out and about. Regarding timing, start as early as 7 AM and go no later than 2 PM, as most sales drop off by this time.
Ask for HELP
Ask your friends or family if they can help you out. You may need help watching over the cash box, assisting shoppers, and tidying up tables. If you have kids, you could have them help out or they could set up their own refreshment stand.
Not Enough Items? Host a Multi-Household Sale
If you don't think you have enough items to have your own yard sale consider teaming up with your neighbors to make a larger yard sale. Plus the more items you have the better your chances of attracting more customers to make more money.
Clean
It is important to clean everything you are planning to sell at your yard sale. This will help your items look better so you can ask for a little more money for items if they are in good condition.
Get the Word Out
Get the word out about your yard sale! Put out signs and hang up posters advertising your yard sale location, date, and time. Don't forget to advertise on multiple Facebook community groups and Nextdoor to help spread the word.
Price it Right
People shopping at yard sales are looking for good deals. The general rule is to price items about 10-20% off the retail price. Keep in mind that many of your items in your yard sale will be used or old, so don't overprice or expect the same price you paid for them when the item was new. And don't worry you can always adjust your prices accordingly while your sale is going on.
Set Up
Setup and organize your yard sale ahead of time. Put tables and clothing racks in rows so shoppers will be able to easily move through and see everything that you have. Remember to group similar items together and put your best items in the front to draw shoppers in.
Let's Make A Deal
Bargain hunters love to negotiate for lower prices. If you are open to negotiating, consider raising the starting price slightly so that you have room to negotiate. But if you aren't willing to negotiate, make it clear that the prices are firm so shoppers know.
Electronic Payments
Having electronic payment options is now easier than ever. Some of the most common payment apps include Cash App, Venmo, Google Pay, and Apple Pay. This helps both you and your shoppers since it's easier to send money straight from an account and you don't have to keep track of change.
Donate What You Don't Sell
Most likely you will have some items left over after your sale that you don't want to keep. Consider donating your leftover items!
---
Was our yard sale tips helpful? Let us know in the comments if we missed anything.
We are the Lisa Jackson Team at Realty One Group Gold Standard who explore and support our local community, businesses, restaurants, and organizations in Southwestern Pennsylvania.
Will you join us?
Are you a local business owner? Our goal is to support local and help the business owners in Southwestern Pennsylvania. Let's connect and see about doing a promotional video for you. Send us an email or call us at 724-884-5677.