Walking and Running Trails in Southwestern Pennsylvania
Posted by Kaitlin Mann on Monday, April 4, 2022 at 1:15 PM
By Kaitlin Mann / April 4, 2022
2 Comments
Are you looking for the best Walking and Running Trails in Southwestern Pennsylvania?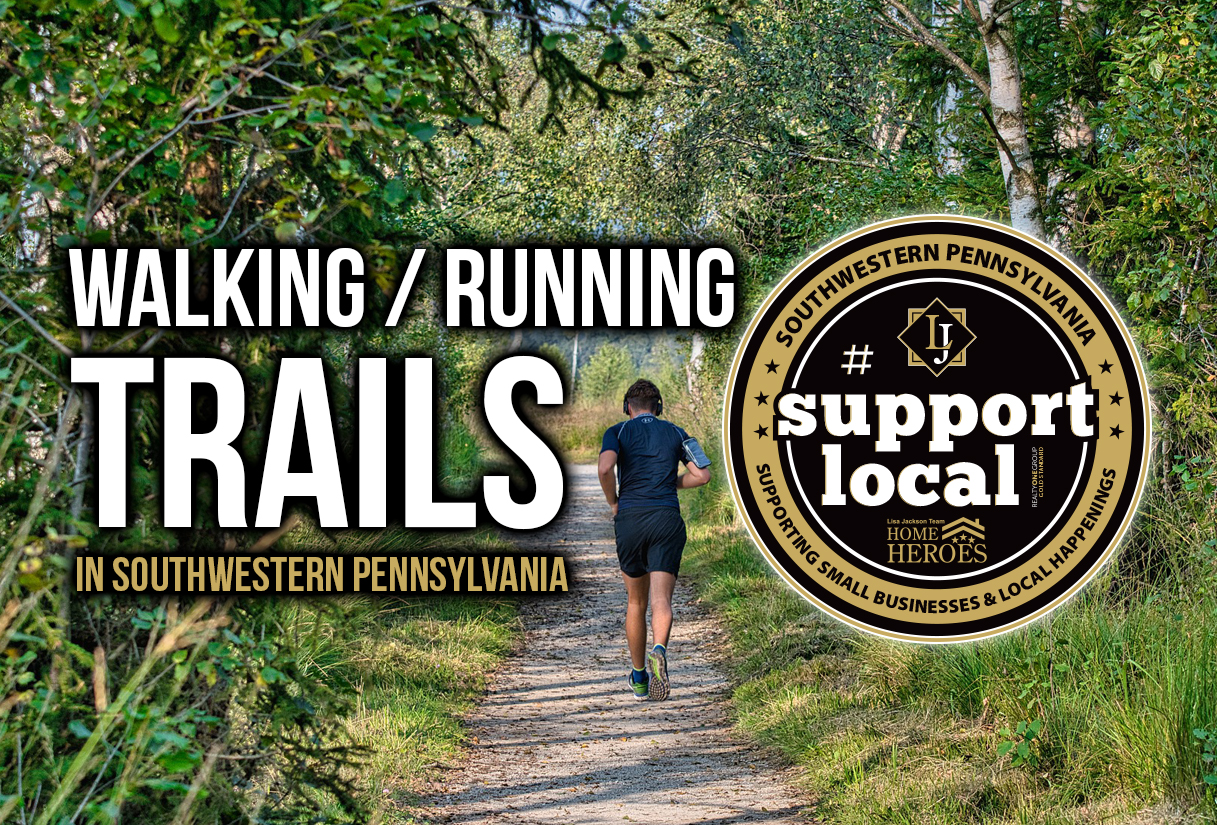 Running and Walking are excellent forms of exercise.
As Realtors, many of our clients like to know what trails are nearby when looking for a new home.
Fortunately, Southwestern Pennsylvania offers countless trails throughout the area, whether you prefer to walk, hike, or run here are some amazing trails that will leave you breathless.
Walking and Running Trails:
Armstrong Trails
Connects riverfront towns along the eastern bank of the Allegheny River, as it winds through the lush Allegheny Plateau
Arrowhead Trail
610 E McMurray Rd, McMurray, PA 15317
Boyce Park
675 Old Frankstown Rd, Pittsburgh, PA 15239
Brady's Run Park
121 Bradys Run Rd, Beaver Falls, PA 15010
Deer Lakes Park
1090 Baileys Run Rd, Tarentum, PA 15084
Frick Park
1981 Beechwood Blvd, Pittsburgh, PA 15217
Great Allegheny Passage
Cumberland, Md. to Pittsburgh, through Pennsylvania's Laurel Highlands
Harrison Hills Park
5200 Freeport Rd, Natrona Heights, PA 15065
Hartwood Acres Park
629 acres in Hampton and Indiana townships
Highland Park
Highland Park, Pittsburgh
Hillman State Park
Washington County, Pennsylvania
Kane Woods Nature Area
Scott Township, Pennsylvania
Mingo Creek Park
Finleyville, Pennsylvania
Montour Trail
Pittsburgh (formerly the Montour Railroad)
Panhandle Trail
The Panhandle Trail is a rail-trail in southern Pennsylvania and the Northern Panhandle of West Virginia
Rachel Carson Trails
The Rachel Carson Trail is a hiking trail north and east of Pittsburgh, Pennsylvania, spanning 45.7 miles between Harrison Hills County Park in the extreme northeast corner of Allegheny County, and North Park in the north-central area of the county
Round Hill Park
651 Round Hill Rd, Elizabeth, PA 15037
Saint Vincent College
1.9-mile trail between the city of Latrobe and St. Vincent College
Schenley Park
4100 Forbes Ave, Pittsburgh, PA 15260
Settlers Cabin Park
608 Ridge Rd, Pittsburgh, PA 15205
South Park
South Park Township
Steel Valley Trail
8.30 mile, out and back trail near Homestead
Three Rivers Heritage Trail
Urban rail trail paralleling the riverbanks in Allegheny County for about 33 miles
Twin Lakes Park
219 Twin Lakes Rd, Latrobe, PA 15650
West Penn Trail
The trail travels between Blairsville and Saltsburg
White Oak Park
3 Muse Ln, White Oak, PA 15131
---
Know of any Southwestern Pennsylvania Walking or Running Trails that we missed? Let us know in the comments, and we will update the list!
We are the Lisa Jackson Team at Realty One Group Gold Standard who explore and support local businesses, restaurants, and organizations in Southwestern Pennsylvania.
Will you join us?
Are you a local business owner? Our goal is to support local and help the business owners in Southwestern Pennsylvania. Let's connect and see about doing a promotional video for you. Send us an email or call us at 724-884-5677.