Where to find the Best Antique Shops in Southwestern Pennsylvania?
Posted by Lisa Jackson on Tuesday, April 5, 2022 at 1:14 PM
By Lisa Jackson / April 5, 2022
Comment
If you are looking for the Best Antique Shops in Southwestern Pennsylvania you have come to the right place.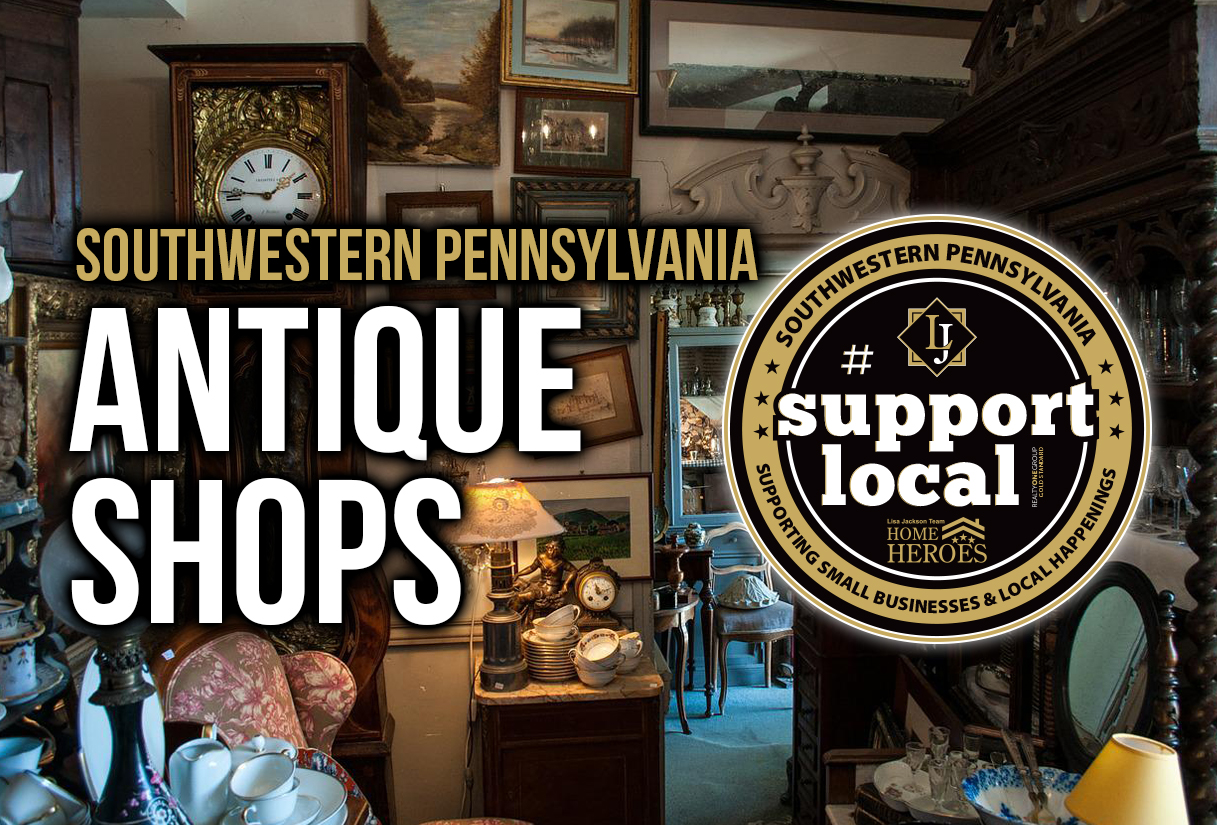 Antique Shopping or "Antiquing" is the best way to find that one-of-a-kind treasure for your new home.
Spending time wandering around antique shops is a sure-fire way to ensure your home is filled with some of the best, one-of-a-kind items.
Southwestern Pennsylvania has so many great antique stores to choose from. To save you time our Team did the work for you and gathered together a list of their favorite antique shops.
Check them out!!!
Best Antique Shops:
American Architectural Salvage
23 W Main St, Mt Pleasant, PA 15666
Antique Mall Ohio River
4331 Ohio River Blvd, Pittsburgh, PA 15202
Artifacts
110 S Main St, Pittsburgh, PA 15220
Crown Antiques & Collectibles
1018 Fifth Ave, Pittsburgh, PA 15219
Emma Jean's Relics
930 5th Ave, Coraopolis, PA 15108
E N Miller Antique Mall
614 E Railroad Ave, Verona, PA 15147
Graham's Antique Mall
2397 US-30, Ligonier, PA 15658
Heidelberg Antique Mall
1550 Collier Ave, Heidelberg, PA 15106
Janford & Son Emporium
418 W Main St REAR, Mt Pleasant, PA 15666
L & L Fleatique
3 Edna Rd, Adamsburg, PA 15611
Laughlintown Antique Mall
1327 Lincoln Hwy, Laughlintown, PA 15655
Mahla & Co. Antiques
17th &, 1700 Smallman St, Pittsburgh, PA 15222
McDonough's Antiques
3617 Butler St, Pittsburgh, PA 15201
Miller's Crossing Fleatique
210 4th St, Irwin, PA 15642
Pittsburgh Antique Shops
1116 Castle Shannon Blvd, Castle Shannon, PA 15234
South Pennsylvania Avenue Antiques
402 S Pennsylvania Ave, Greensburg, PA 15601
The Treasure Shack
1001 Castle Shannon Blvd, Castle Shannon, PA 15234
Wolfe's Den Emporium
309 N 4th St, Youngwood, PA 15697
---
Know of any Southwestern Pennsylvania Antique Shops that we missed? Let us know in the comments, and we will update the list!
We are the Lisa Jackson Team at Realty One Group Gold Standard who explore and support local businesses, restaurants, and organizations in Southwestern Pennsylvania.
Will you join us?
Are you a local business owner? Our goal is to support local and help the business owners in Southwestern Pennsylvania. Let's connect and see about doing a promotional video for you. Send us an email or call us at 724-884-5677.